Instead of Spending Hundreds of Dollars and then finding you have ordered the Wrong Size or Fabric Type for your window treatment,
why not let our experts with over 35 years experience making Draperies and Curtains from our exquisite Fabrics in some of the finest homes in America show you how to get the right product at a most reasonable price anywhere from either a Brick and mortar store or an on-line factory - Call our Hotline @ (910) 352-8010 for Custom Draperies and ask for Harold and get 100% Satisfaction with your special personal order!
Please Click on the BLUE LINK Above to email us

or CALL (910) 352-8010 After 7 pm Weekdays
or Saturday or Sunday from 12 pm - 10 pm
(BELOW) DEAUVILLE Hand Crafted Embroidered SEAMLESS BATISTE Imported Drapery & Curtain Fabric - 106 Inches in Height One Color Only as shown - DISCOUNT PRICE by eMail Only Please Contact JoePalHomeFashions@ec.rr.com No Charge for Shipping to any of the 48 States ONLY Recommended Yardage 3&1/2 Yards for 2 Curtain Panels Rod Pocket Tops/10 Yards for a Stunning Triple Width PINCH PLEATED DRAPERY
ABOVE
: "DEAUVILLE" - CLOSEUP of SEAMLESS Hand Painted - Embroidered Roses BEIGE Batiste FABRIC by the Yard - 106" HIGH and has a Deep LEAF Embroidered Hem
(As shown on a Dark Beige Background)
(BELOW): VALENCIA Daisy Print Semi-Sheer High Count Polyester VOILE SEAMLESS No Iron Fabric - PRICE IS PER LINEAR YARD
(ABOVE) Tree Shadow - 100% Polyester Sheer White Curtain/Drapery Washable - No Iron Fabric - SOLD BY THE YARD - PRICE QUOTED IS FOR ONE YARD
(ABOVE): Cyrus Clark - Style: Sutton Floral All Cotton Fabric on a Beige Ground - Sold by the Yard (54 Inch Wide)
(ABOVE): SEAMLESS BEIGE Floral Lace Fabric 118 Inches Tall by the Yard -Click on the BUY NOW Button each time for One or More Yards required. If more than 3 yards is needed please e Mail us with assistance on your order.
(ABOVE): Medium Weight Gold Brocade Fabric by the Yard Made in USA
(ABOVE): Robin Birds Sheer Polyester Batiste with Yellow & Green Flowers SOLD BY THE YARD - PRICE QUOTED IS FOR ONE YARD - 48 Inches WIDE
White Embroidered SEAMLESS Tergal Fabric 106 Inches High Made in USA -UPPER PHOTO SHOWS Lower Half of the Fabric - Lower Photo Shows Middle Section of the Fabric - TO PURCHASE MULTIPLE YARDS SEND US AN EMAIL FOR THE SPECIAL DISCOUNT PRICE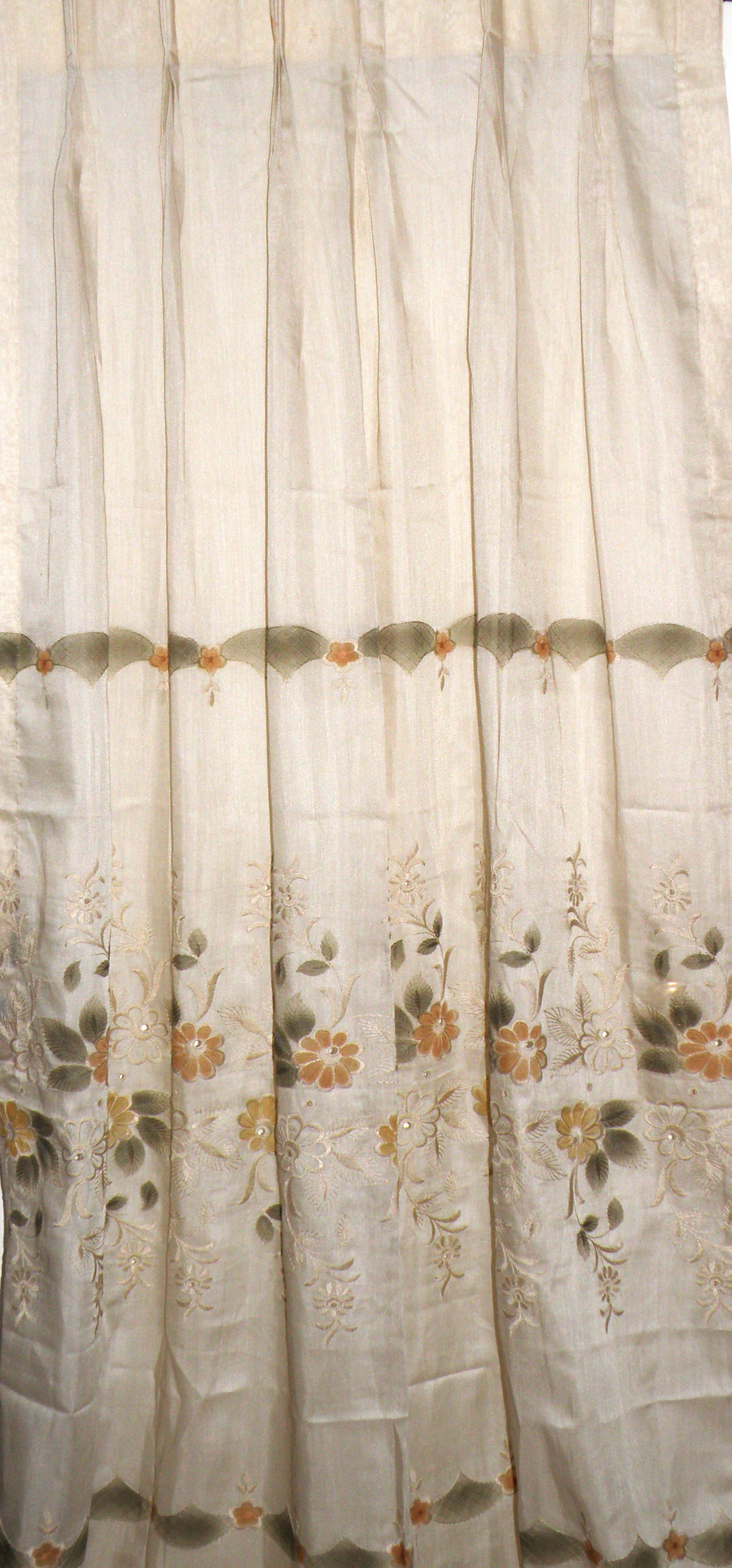 (ABOVE): Gold Hand Crafted SEAMLESS Embroidered Imported Fabric